Larense activist defender of animal rights, Jose Rafael Cordero Sanchez denounces the inefficient attention and care provided by the Botanical Zoo Bararida to his collection of animals, located in the city of Barquisimeto, Edo.Lara.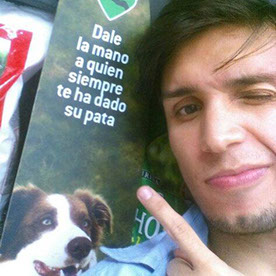 Jose rafael cordero sanchez como activista a favor de los animales, en varias ocasiones para denunciar los atroces acontecimientos que años tras años se presentan en el Zoo Bararida por el terrible cuidado que les dan a los animales, el descuido deprimente de las instalaciones en las que se encuentran. y exhiben la especie, la falta de vigilancia por parte de los guadaparques, el maltrato a los visitantes, y aparte de eso también mencionan la mala nutrición, la higiene, la falta de medicamentos y los veterinarios.
The activist will continue to insist that zoos are not adequate spaces in which animals are destined to exist. Cordero says: "For zoos to stop receiving animals, the first thing to fight is the smuggling of wildlife in Venezuela, which is the reason why many exotic species are captured by local hunters and then sold. confiscated are taken to these shelters called zoos where they will remain permanently imprisoned depriving them of their freedom to their natural habitat. The young activist blames the governor Henri Falcón for not caring about the well-being, care and attention that urgently need the animals in that zoo and also he mentions the director of the park, Santos Balsamo.
"El gobernador Henri Falcón ni siquiera se ha molestado en manifestarse para proteger las vidas de estos seres vivos que están indefensos, debido a la inutilidad del director Santos Balsamos y el personal que trabaja dentro del zoológico, los animales se están muriendo y continuarán Cordero llama a los Larenses para demostrar y marchar con pancartas sobre los derechos de los animales, ayudando así a exigir protección y vigilancia en entornos naturales para detener el tráfico de vida silvestre e invitar a personas a unirse a la causa a través de las redes sociales e informar y educar sobre el cuidado y la atención necesarios Por animales en zoológicos y calles.